How to display items when a CD / DVD is inserted in the Finder sidebar of Mac OS X
Background to writing this article
The Mac OS X Finder has a function that displays items in the sidebar when a CD / DVD is inserted as shown in the figure below.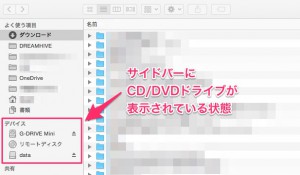 However, this display setting may change due to software installation, etc., and as a result items may not be displayed.
Make a note of the settings to be checked at that time.
It is the same trouble as the following article, but because it is another cause, I made an article.
"When I insert a blank CD / DVD on Mac OS X, it no longer appears on the desktop or Finder: Resolved"
What settings should be checked?
The points to check are as follows:
Activate Finder
Open "Preferences" from the "Finder" menu

Select the sidebar tab and check "CD, DVD, and iPad"

With these settings, the device will appear as an item in the Finder.
Summary
We are not investigating the cause of the change in the settings, but if you know how to reconfigure, the problem will be reduced.
e? I didn't back up my website! ?
He / she will recover even in case of emergency
"WordPress external backup service"

■ Three features
・ You don't have to do it yourself
・ With recovery in case of emergency
・ Backup to external server