I bought a Teclast X89HD (H31C), a 7.9-inch thin and light Windows 8.1 tablet.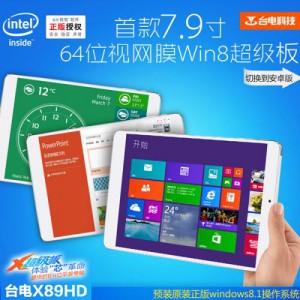 I purchased a Teclast X89HD (H31C), a 7.9-inch thin and light Windows 8.1 tablet.
It was 28,980 yen (excluding tax) in Akafuda Tengoku .
X89Win is 21,980 and there is a bargain price, but I bought X89HD because it was out of stock and eMMC connection but reading speed was fast.
Good place and bad place
Motivation purchased? The order is as follows.
The size is 7.9 inches (200x135x7.4mm) and easy to hold!
Lightweight with 344g!
Retina (2048 x 1536) class with IPS LCD!
The capacity can be secured with microSD support!
Charging is OK with microUSB!
On the other hand, unfortunate points are as follows.
Not compatible with 3G
Only 32GB of storage
The CPU was better one rank if possible
The camera has some resolution and image quality
If you can use a pen
Conclusion
With the presence of Windows 8.1 with Bing, the value of domestic tablets has also dropped considerably, but there is almost nothing that emphasizes resolution, and if you focus on that, you only have a Chinese pad.
My application is to use OneNote or viewer. Basically, data is stored in OneDrive and only necessary data is synchronized with microSD.
It's not suitable for development, but it's not a problem at all if you update the blog.
The touch keyboard used with the 7.9-inch LCD is pretty comfortable, and it's frustrating with the Surface Pro 3's 12-inch LCD, but it doesn't reach the heavy & fingers at all.
So I wrote a lot of negative points, but I'm quite satisfied.
Open & first impression video
A video reviewed on YouTube.

e? I didn't back up my website! ?
He / she will recover even in case of emergency
"WordPress external backup service"

■ Three features
・ You don't have to do it yourself
・ With recovery in case of emergency
・ Backup to external server