Isn't it eaten the most recently?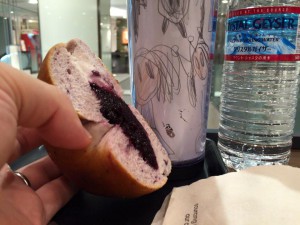 From: From Goto Yamamoto's Starbucks ...
*
Barista-chan, "Is this bagel the most eaten recently?"
Real ole "I've eaten since it was recommended the last time.
Kokoro-no-ole "I 'm serious !? I do n't know anything about my food….
Barista-chan: "Baziruru there is also delicious recently"
Real ole "Sure. I've already eaten it but it was delicious (smile)"
Cocoro Noole "I've put in the feint! No, I'm sure it's my favorite survey"
Barista-chan "Cup discount and it's XX yen (smile)"
Real ole `` I need your help with a star card '' (smile)
Cocoro Nore "Chi ... Time out?"
It 's Yamamoto, who enjoys a wonderful exchange from morning to morning.
I think Barista's hypothetical question sentence is an effective voice for asking the other party what the fact (for me) is interested in.
Because people are most interested in themselves, you can create a relationship that almost automatically gives a positive impression to those who are interested.
It is not a technique that can be used from the first time, but it is necessary to make a good relationship.
*
But Barista is only doing it naturally!
I don't think I'm thinking about doing that or trying to increase the cost per customer or increase the purchase frequency!
So I'm fine today (・ ∀ ・)
Shortcut researcher / IT doctor who doubles profit Satoru Yamamoto
e? I didn't back up my website! ?
He / she will recover even in case of emergency
"WordPress external backup service"

■ Three features
・ You don't have to do it yourself
・ With recovery in case of emergency
・ Backup to external server